Kylie Minogue's
video for her new song "All the Lovers" (off the album Aphrodite
) features a veritable orgy. Kylie stands/sprawls atop a growing hillock of underwear clad beautiful people as she sings calming words to assuage her new lover's worries about her past lovers (Well, at least in my artistic critique of the song). And if the throbbing human volcano underneath her is an indication of past lovers, then our Kylie has certainly been around the block... the bisexual block at that.


It's your typical music video marketing:
Hot babes in lingerie -
TICK
Hot dudes in Calvin Klein skivvies -
TICK
Girls playing tonsil hockey -
TICK
(and big
TICK
for the bisexual/gay trend - Remember
Madonna and Britney kissing
at MTV Music Awards and more recently Adam Lambert kissing a guy and
simulating fellatio
? It's
de rigeur
darling.)
Guys playing tonsil hockey -
TICK
(and see above)
Throw in some white doves for good measure and you've got permanent rotation on the music channels for sure.
But what I did happen to catch in the first few seconds of the video is a sneaky little
QR Code
. (and then a few other times... okay, okay, I didn't see the other ones, I read about them on another blog... I was too busy *cough* being distracted)
And some kind soul called Tom O on
this website
has reconstructed the coffee cup QR Code here:
Upcode
app I use on my Nokia E72, you will see that this image reads LOVE. Nifty! Yet I can't help but think that they have only dipped their toes in the water here.
QR Codes
can be used to represent URLs, Text, SMS, email message, email address, contact details (VCard) or Google Maps location. This QR Code, no matter how subtly embedded in the vid, would be noticed and reconstructed (as it has been) and this could direct people to an exclusive "behind the scenes" video, or an interview with Kylie, or a music download site, or... anything really. Missed opportunity.
QR Codes
will start becoming very common. Basically your mobile phone is now your own personal handheld code scanner. I'm currently working on getting one of my clients to use
QR Codes
in a very creative way... but that will have to be a secret until I can convince them of the value.
But let's look at some applications that you should be using now. My business cards will soon have the
QR Code
to my website on them. You could link to anything. Your FB profile, Twitter account etc. Here's a pic of a QR code on a very cool business card:
Next time you hold an event or have a stand at an event... preferably with promo girls, why not give them temporary QR code tattoos?
THIS -->>
PLUS THIS -->>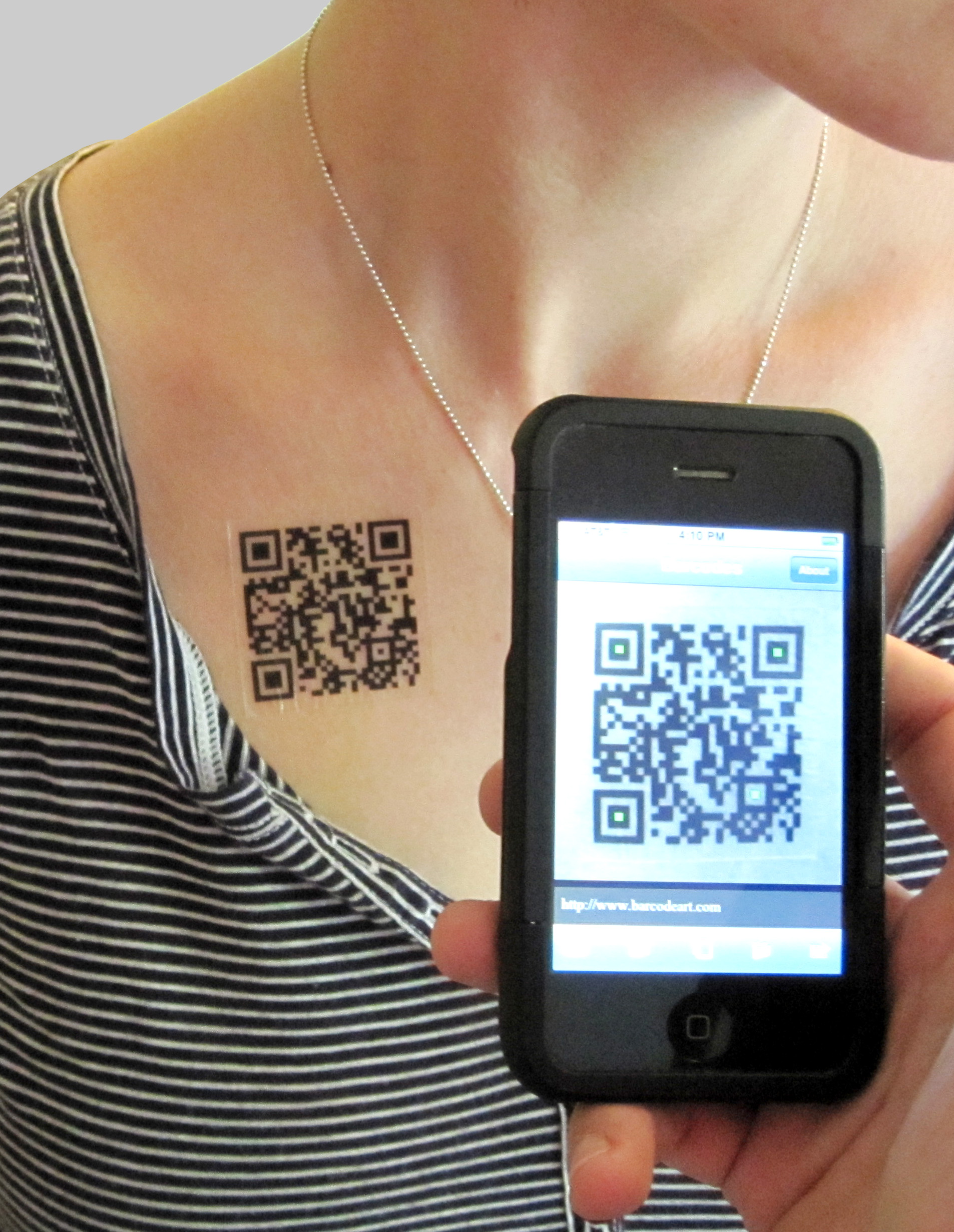 EQUALS FTW! (I'll give a Noddy badge to the person who guesses my suggestion for QR Code placement on the above promo model)
Or how about making t-shirts? (It's bent, but apparently reads "Give me a hug")
Here's my all time favourite ZOO Weekly model
Keeley Hazell
directing you to The Sun website:
Mashable shows some more uses
HERE
. But one of the most creative uses I've yet found is what's called
QRBall
, like a QR Code Paintball.
Here's how it works:
Install a QR reader on your mobile.
Everyone playing the game wears a tshirt or other item of clothing with a special QR code on the back (and possibly on the front, too)
Everyone playing the game stays within a pre-arranged area - the 'warzone'.
Someone 'shoots' your barcode with their phone, and you get a text message saying you've been shot, and you're out of the game - although you should try to shoot them first.
Once shot, you proceed to a pre-arranged area out of the warzone and have a drink with your fellow casualties.
I've generated a
QR Code
for you to try out with your phone:
I'd love to hear your suggestions on applications of QR codes. I keep getting reminded of my old raver days, chasing around trying to find info on where the party was going down. This would be perfect for treasure hunt style games.
Paying the bills
:p Kylie's new album 'Aphrodite' is released on Parlophone records and will be available on July 5. Pre-order now: